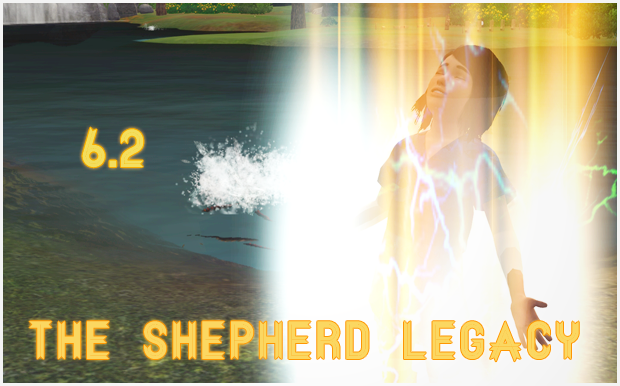 Look who's here again! HAHAHA did you miss me? Check the first post on the front page for details on my failure to update if you already haven't.
Holy ship. Half of this update was last updated in December 2013.. so yeah. it might seem a little disjointed, but I'm going to get this out there if it kills me. No I won't work that hard, it's just a sims story, gosh. But if you're reading this I did manage to actually finish it!
Also I will occasionally add little notes to places as I edit the parts I wrote last year.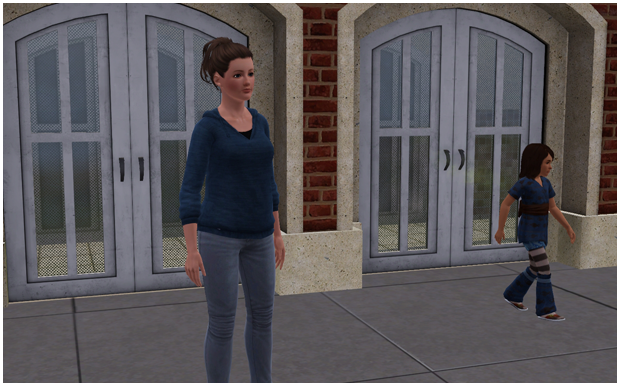 Look it's Sim!Mariah and she works at the school? Hahahahaha. I do in real life as well; what a coincidence.
edit: hahaha I lost that job. Life sucks.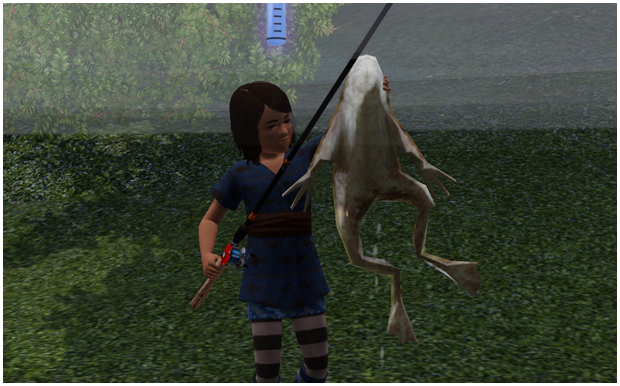 Sam: Hey I got a big toad!
edit: Sam's the awesome middle child of Paris and Jason.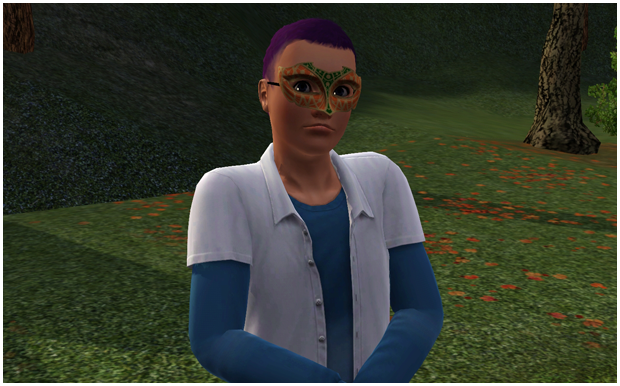 Mikel Tarry, the kids' cousin from their uncle Garen's side was also fishing at the lake!
Mikel: That is a huge toad she caught! I better catch something big or I'll look a fool!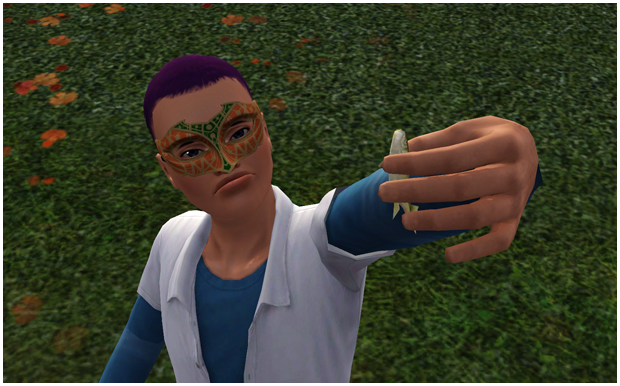 Mikel: Dang. A tiny minnow.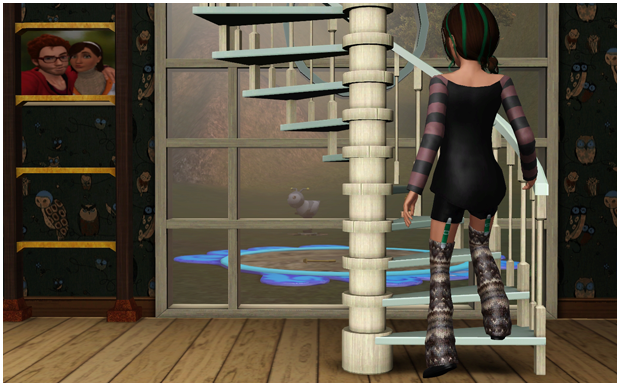 Spiral stairs make an appearance!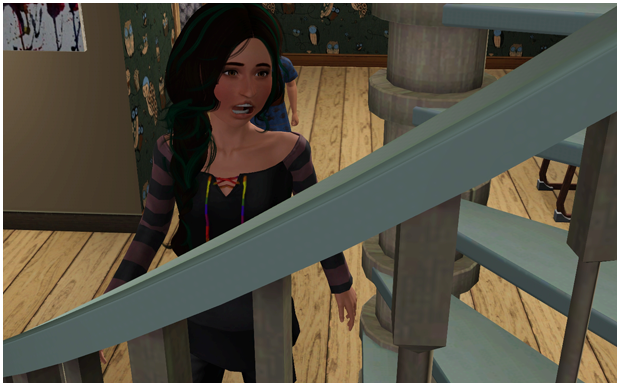 Ann: Woow it goes all the way around!
Where it stops nobody knows… just kidding it stops upstairs.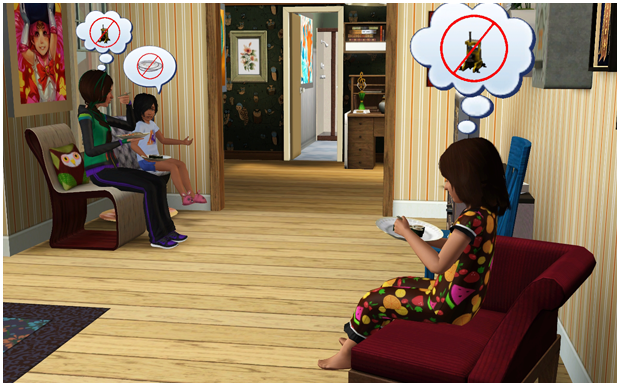 Max: The dishes still aren't done!
Ann and Sam: The dishes aren't the problem. It's the damn drill!
No, it's the fact that you won't eat in the kitchen.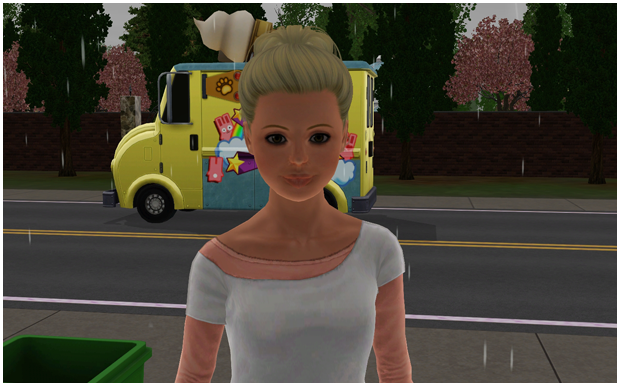 Look! It's Brie Shah's daughter Annmarie. At least that's who I deduce it is from my notes.
She's the kids' second cousin. Brie is Mason's daughter. Mason was Taylor's brother.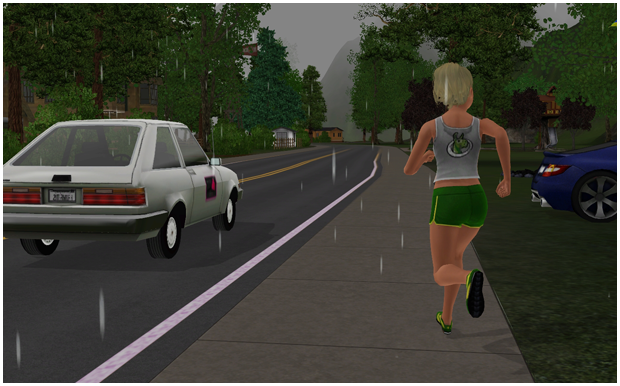 She's got work to do so the kids were too late to say hello. Boo!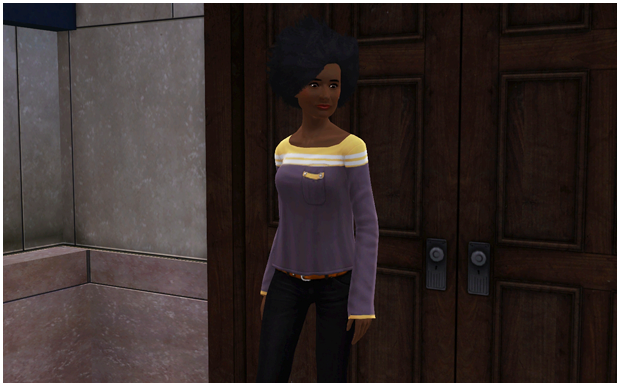 Paris: I just got a job offer from the hospital! I'm taking it!
She started as a Trauma Surgeon. Good luck.
The medical career is still compatible with her LTW so I thought it would be fine :)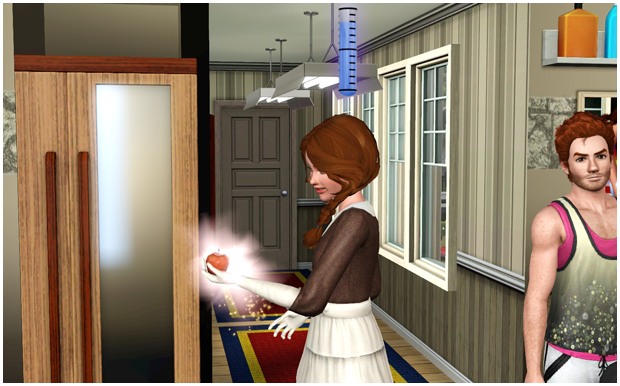 SO CLOSE. This skill takes forever to master.
Jason: It's gig time.
Yeah giiiiggggg.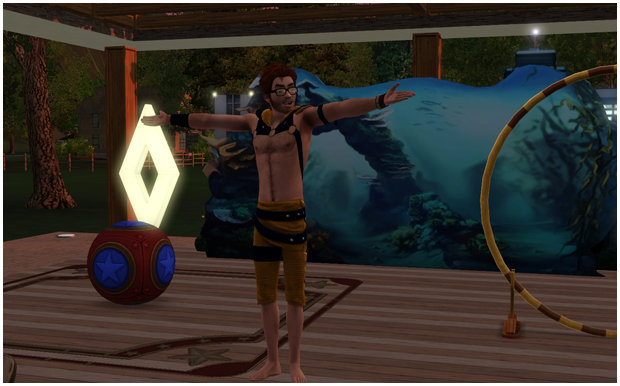 I got bored and didn't take pictures? Lame.
It was a legendary show though.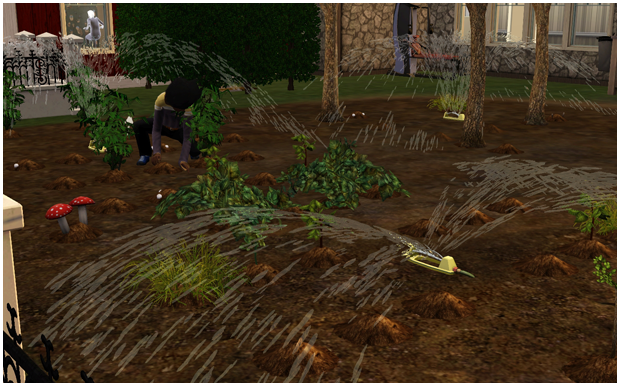 Paris became a Botanical Boss!
She spent three hours planting all the plants in her inventory(one of every plant).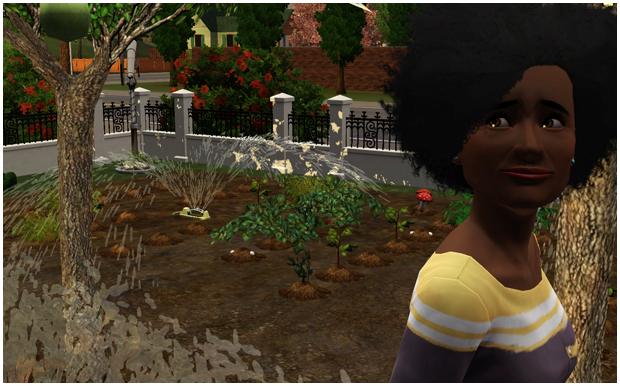 Paris: Grow my babies. This better have been worth it.
And now for science!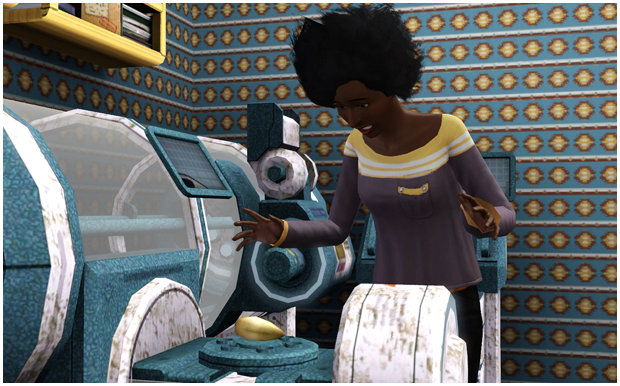 Paris: YES. I got a Peppermint seed from a money tree seed!
Nooooo!!!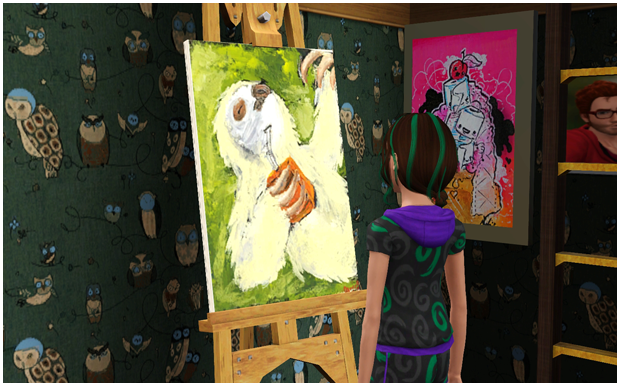 I'm loving it.
And so is that sloth.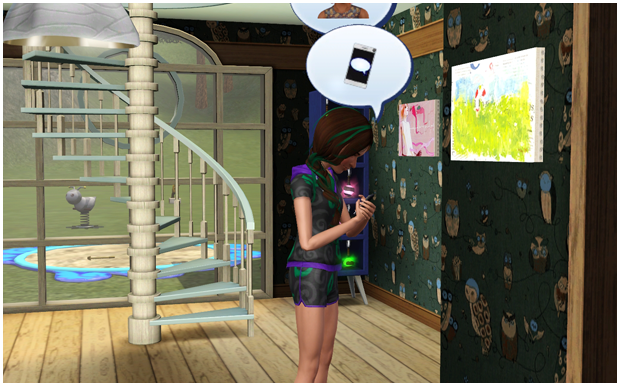 Ann: Hey Kris. Wanna meet me at the park?
Prom is coming up. Time to get Annie a date.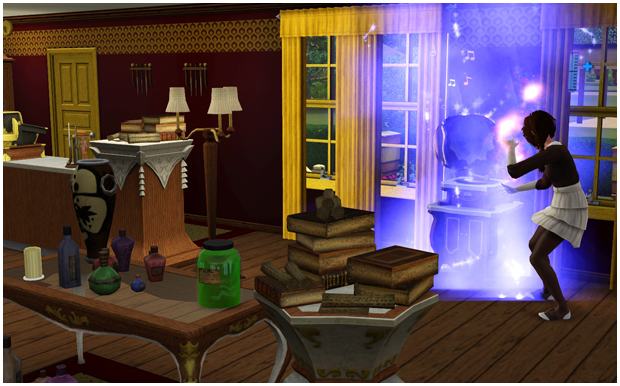 Meanwhile Taylor has upgraded everything at the house so she's on to items from local businesses.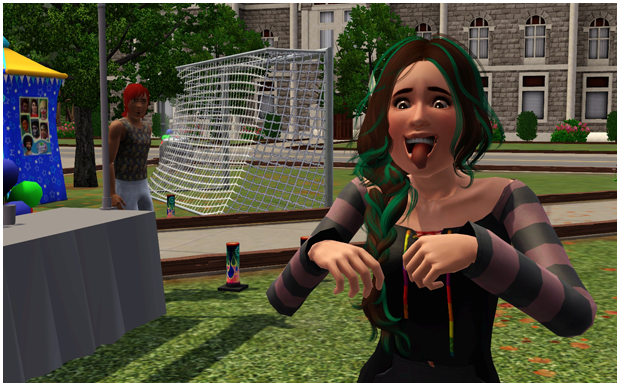 Ann: Woof! He looks HOT.
Kris: Is she ok?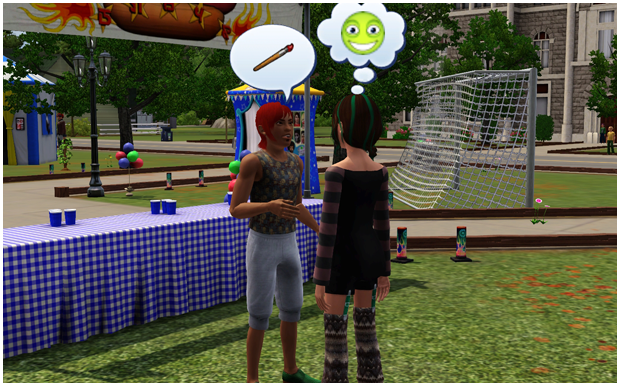 Kris: Hey so I heard you loved painting?
Ann: I like where this is going! I get to tell him all about my passion.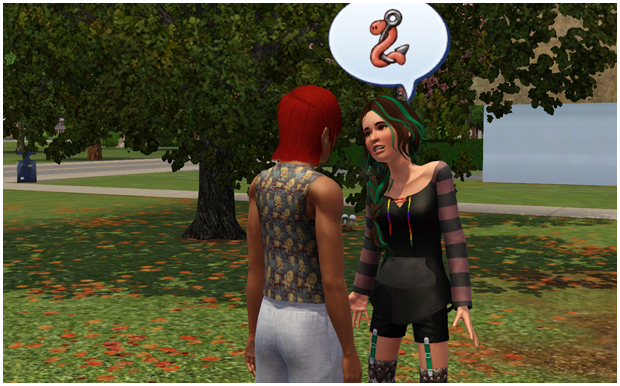 Ann: I like painting.. creatures and food. Often at the same time. Like worms on a hook. They are creatures but they're about to become food for bigger creatures.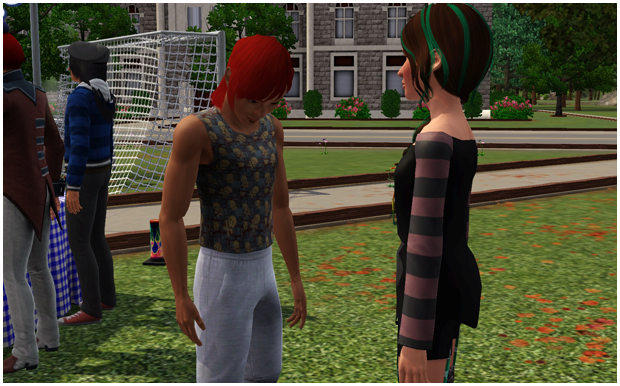 Kris: Um.. that's nice, I guess.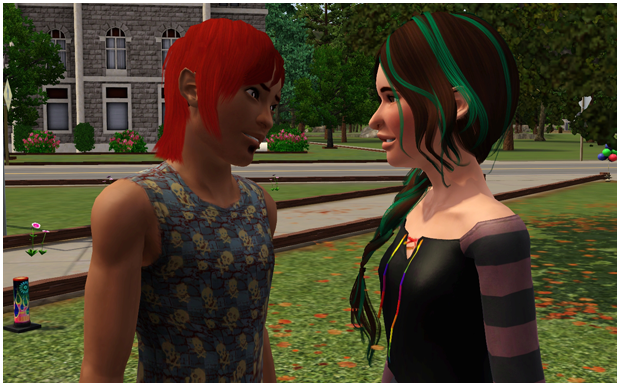 Ann: So you have a date for prom yet?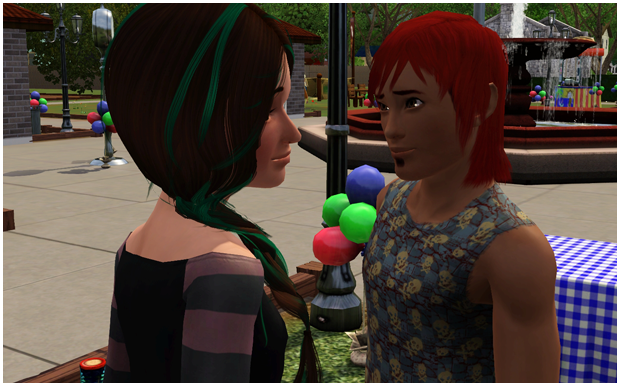 Kris: No.. you wanna go with me?
Ann: Yes.
Kris: Sure, let's do it.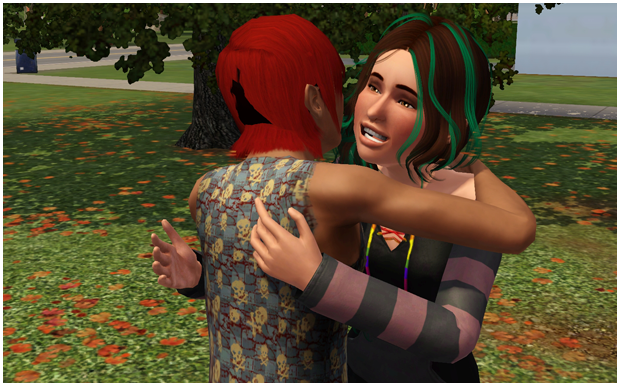 Ann: Awesome. I can't wait.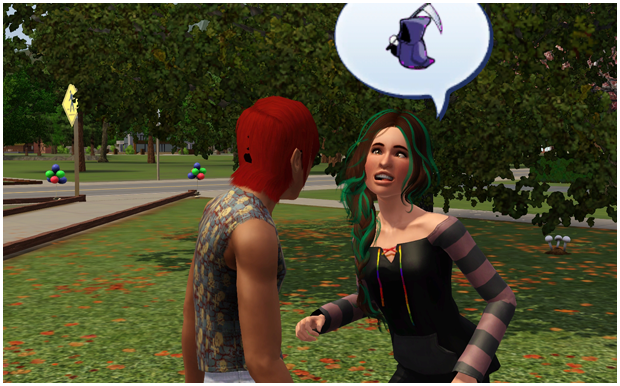 Ann: But wait, don't you have a girlfriend? Yeah I heard you're dating Morgan! Death comes to those who go to prom with someone who isn't their girlfriend.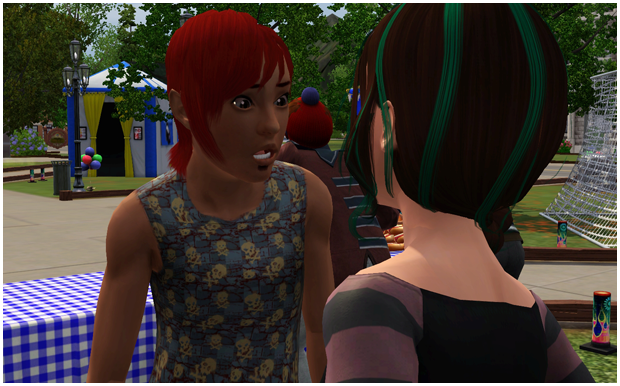 Kris: I'm sure Morgan won't mind if I go with you!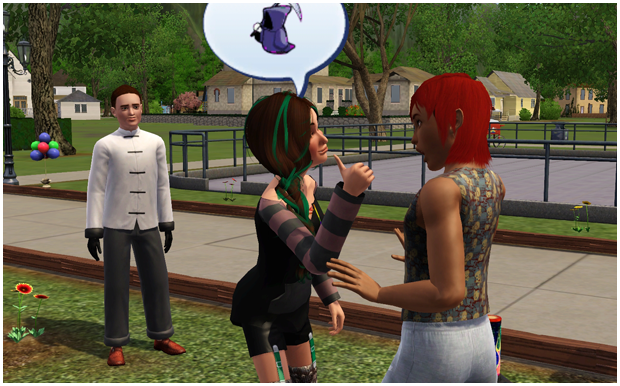 Ann: Sure, enjoy meeting the Grim Reaper! You have seven days to live unless you change your mind.
Ann: You have no respect for the lady you're dating! But I'M THE CRAZY ONE, RIGHT?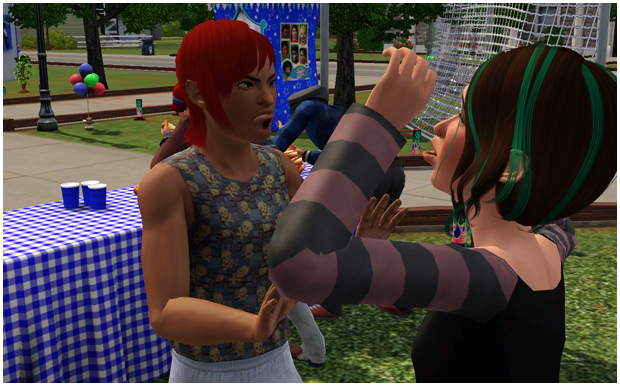 Kris: That's enough dude.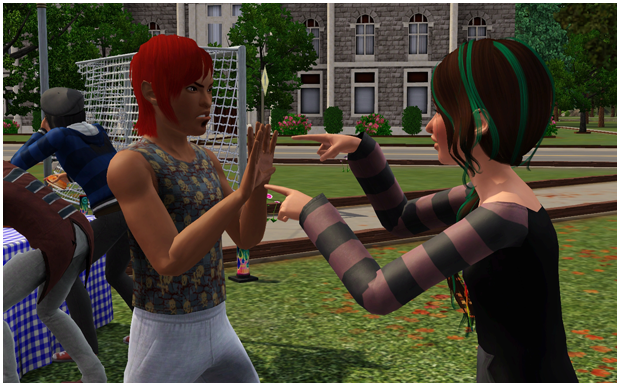 Ann: You gon' die.
Kris: Shut up! I'm going to prom with you and that's final!
Thing is once you have a date for prom, you can't say no I won't go with you after all.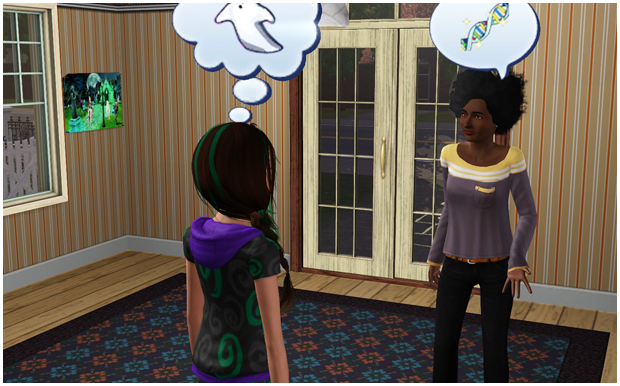 Paris: Hey, Ann, I need your DNA sample for SCIENCE.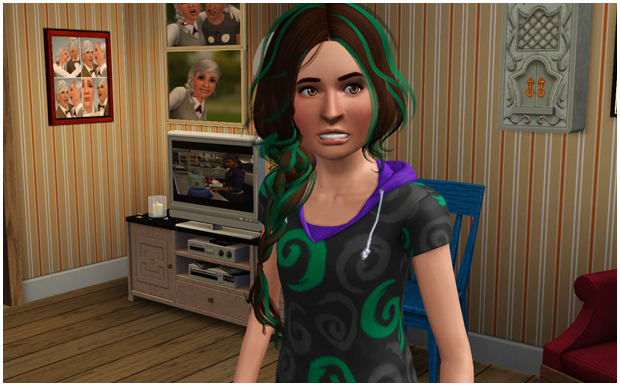 Ann: My DNA? I don't know mum…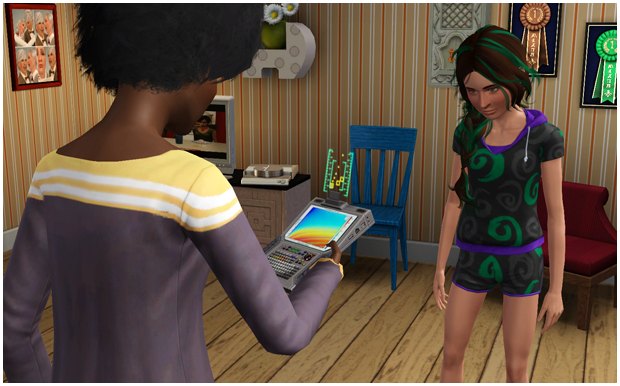 Ann: Okay.
Paris: Wonderful!
Paris: it's.. not working!!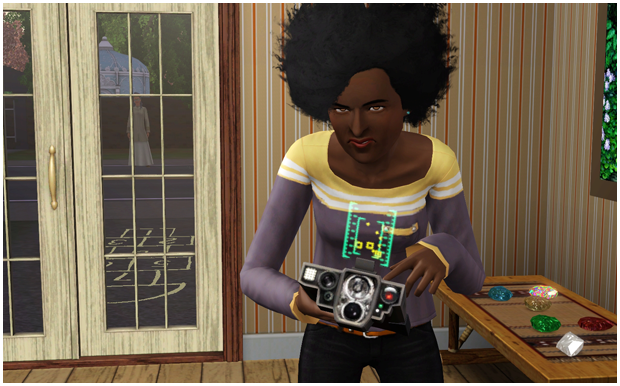 Paris: Are you sure you're human?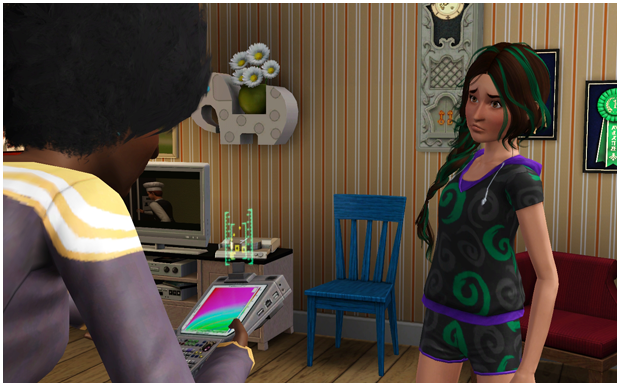 Ann: Excuse me? You gave birth to me, didn't you?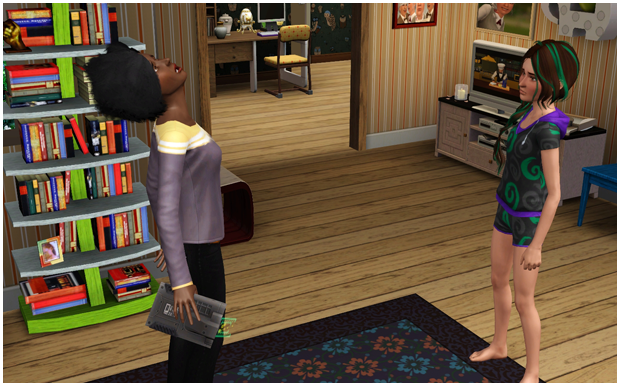 Paris: it was natural birth, I was in pain, I don't remember exactly what happened!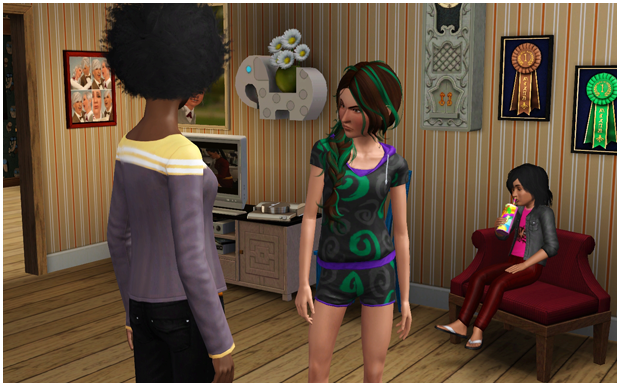 Ann: Excuse me? I need to go paint my feelings.
Max: let me just sit here and sip my juice. Don't mind me..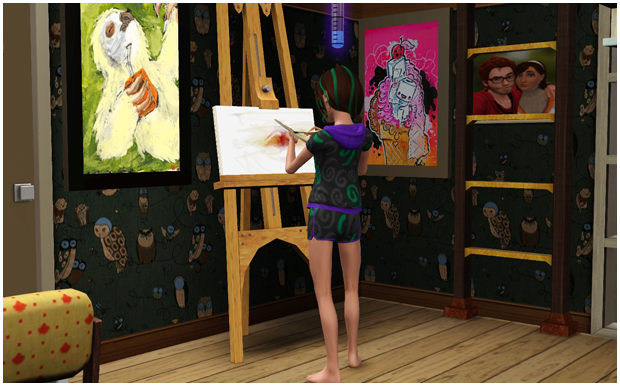 Ann: This is gonna be a masterpiece and that's gonna show her!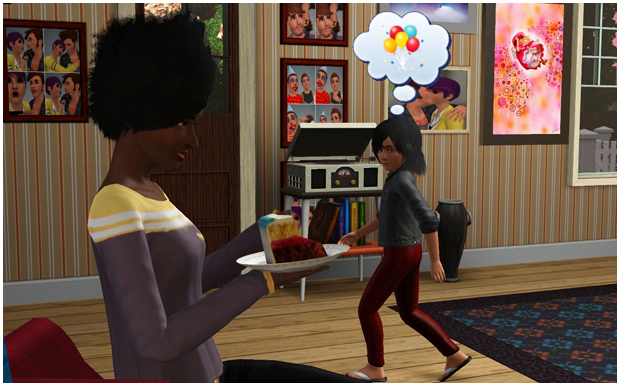 Max: Was there a party? Where did mum get cake?
Paris: You must be new.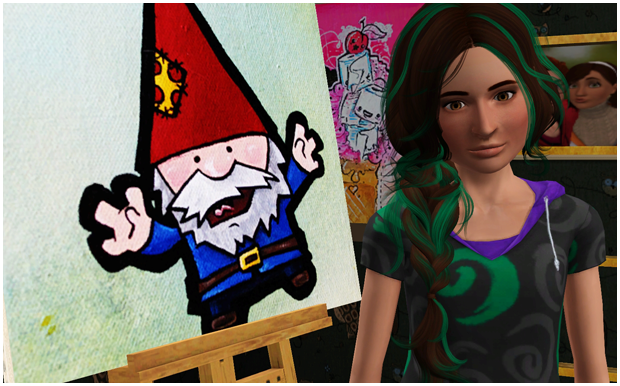 Ann you're so wonderful.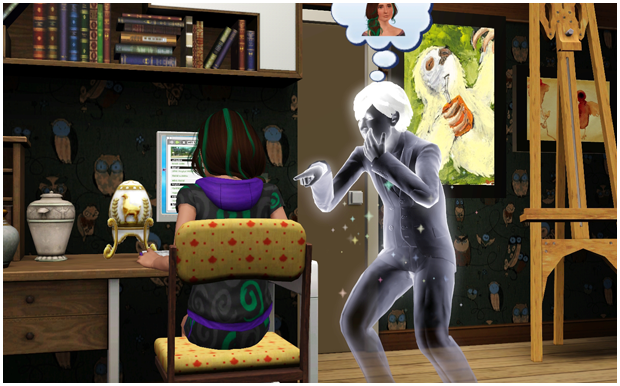 Ernest: HAHA. She draws funny.
Ann: Your novels were unoriginal and predictable.
Ernest: TAKE THAT BACK.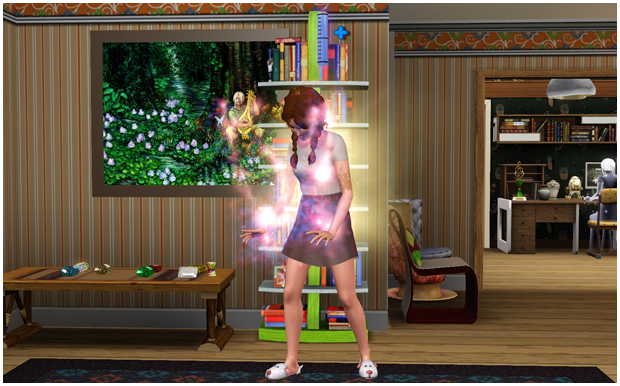 I think I only need one more spell and she'll have done it.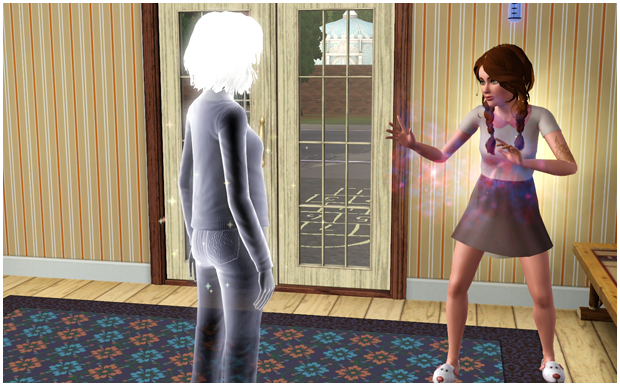 Taylor: Stand still Clarice!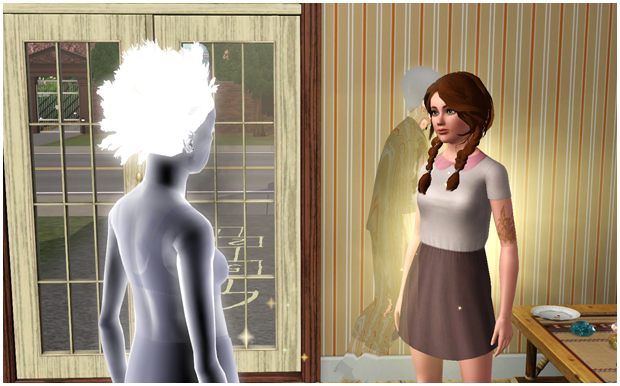 Taylor: Awesome. Thanks for the skill master.
Clarice:..you're welcome.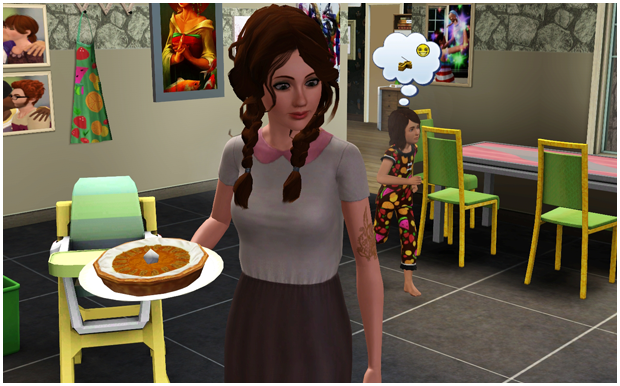 To celebrate Taylor baked a pumpkin pie.
Taylor: This is for Sam. It's her birthday!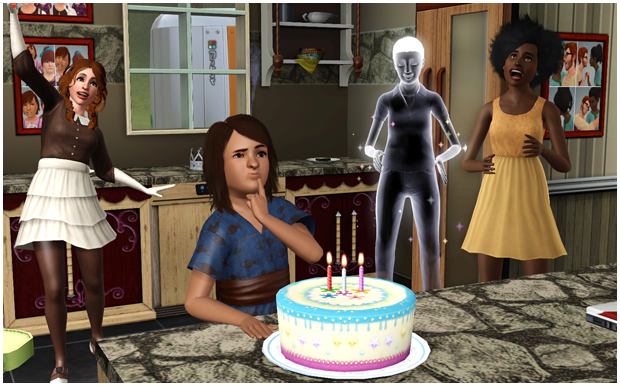 Indeed!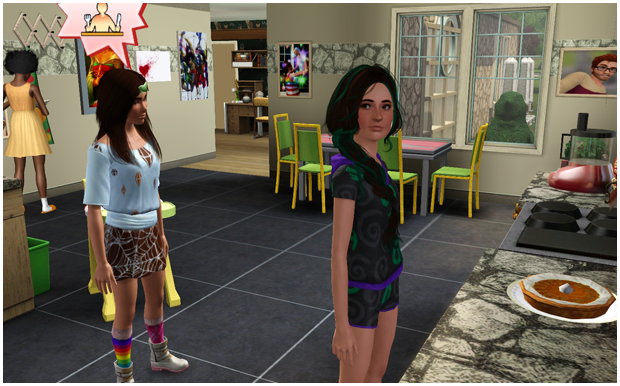 Sam: It's MY birthday why can't I have cake first?
Ann: I'm older! I get first pick!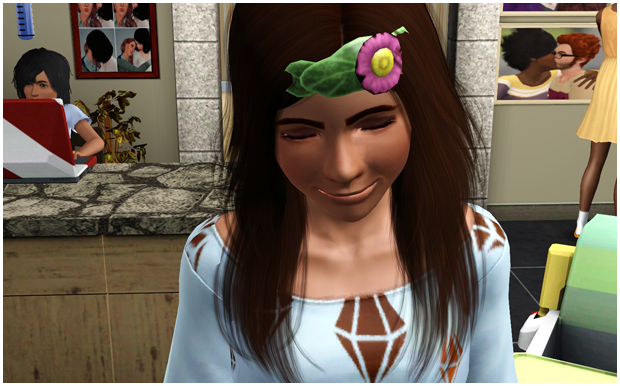 Sam: of course, sis.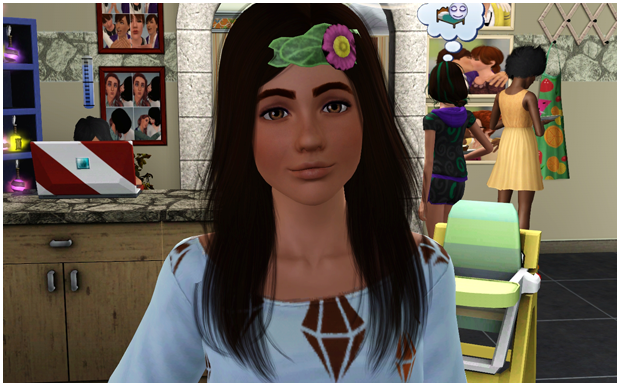 What a face.
I love her jaw. It really gives character to her face.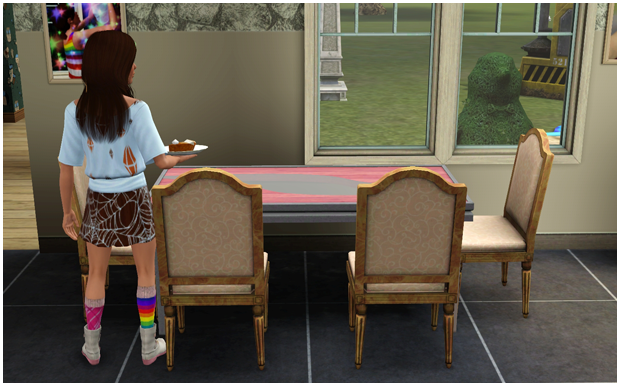 What a great girl! Going to eat at the dinner table.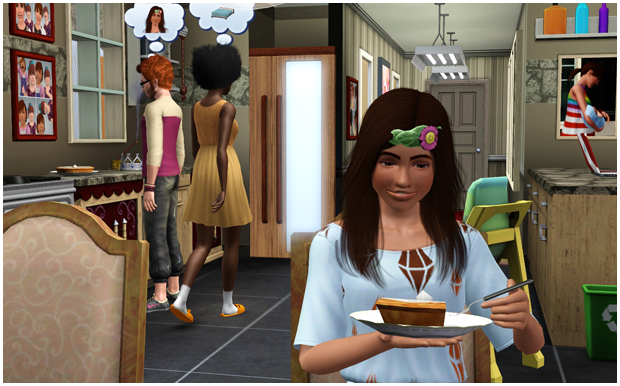 Sam's new trait is Socially Awkward.
(Angler, Good Sense of Humour, Loves the Heat)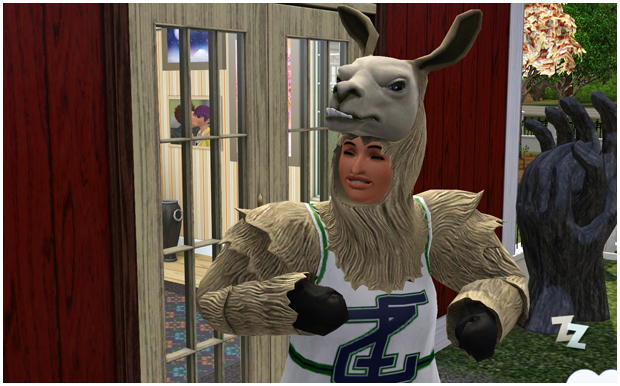 Jaime the Mascot: Hey I heard you turned 15. Time to decide what you wanna do for the rest of your life!
Yeah world that makes all the sense.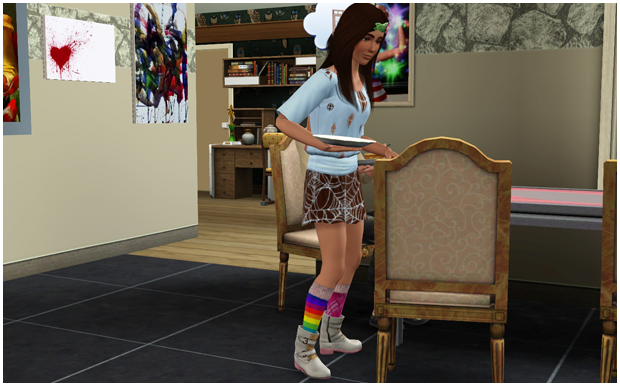 I really dig the outfit I gave her.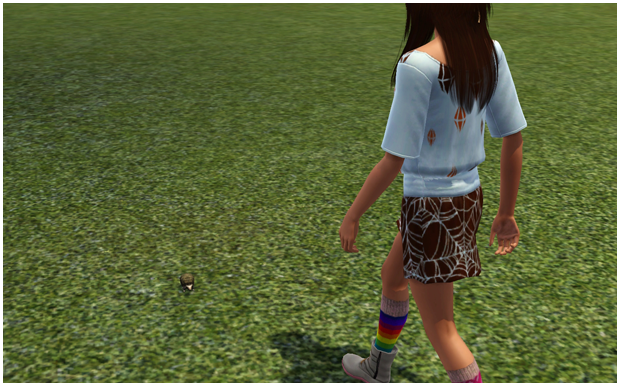 Omg, is that..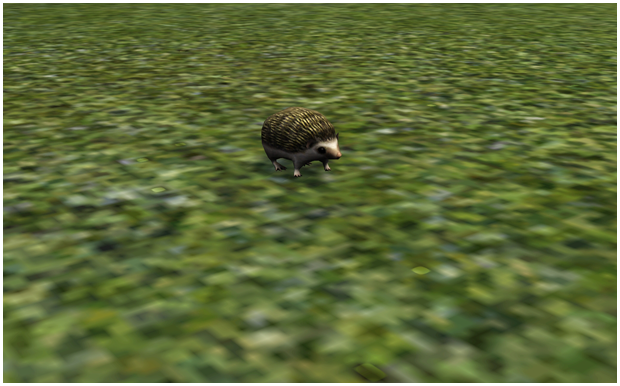 It's a hedgehog!!!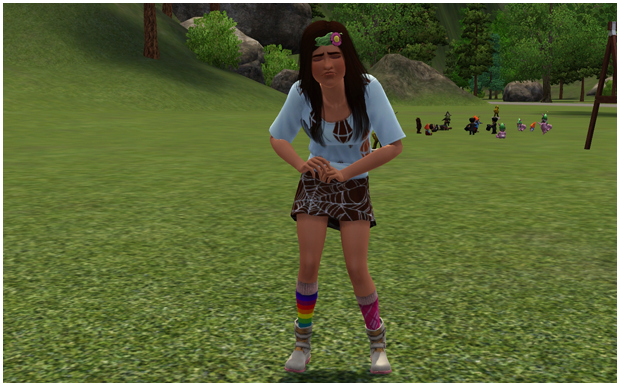 Sam: It bit me! I'm only good with fish apparently.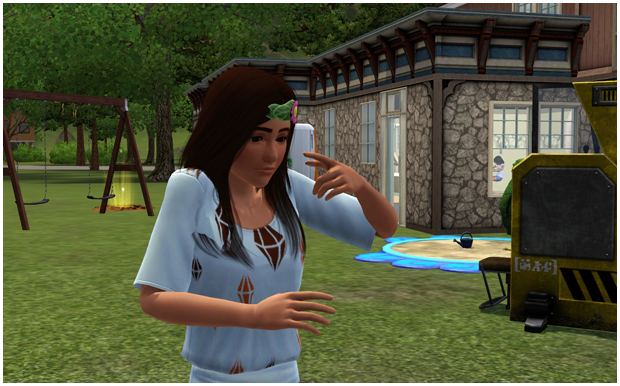 Sam: I'm going to have a scar!
Badass.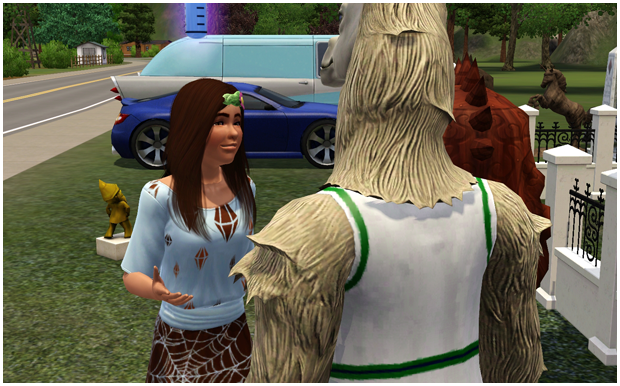 Never hurts to socialize. Right?
Sam: Is your mother a llama?
Jaime: excuse me?
Sam: Uhm I only meant since you–
Jaime: No.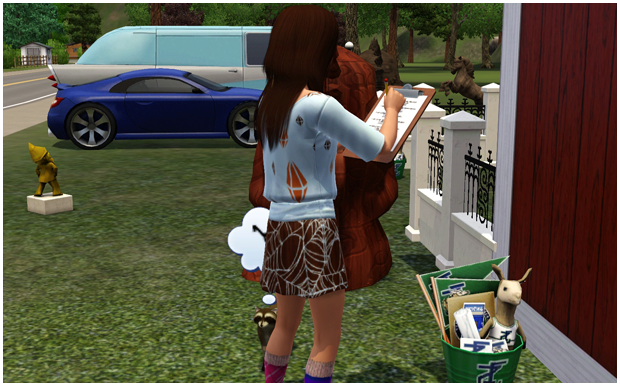 Sam: Well that was a disaster. Maybe the aptitude test will go better!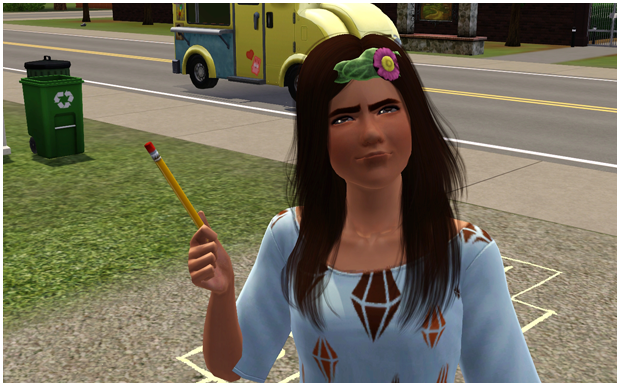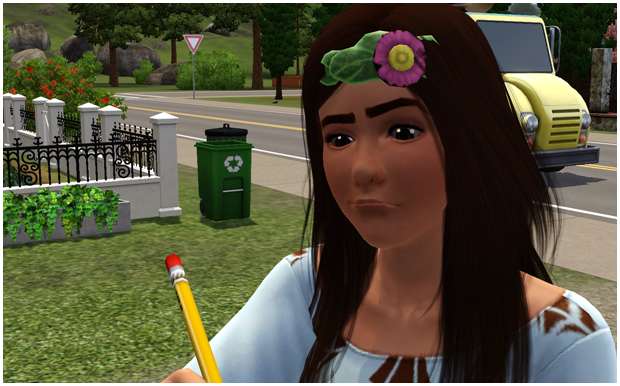 Eyebrow game too strong.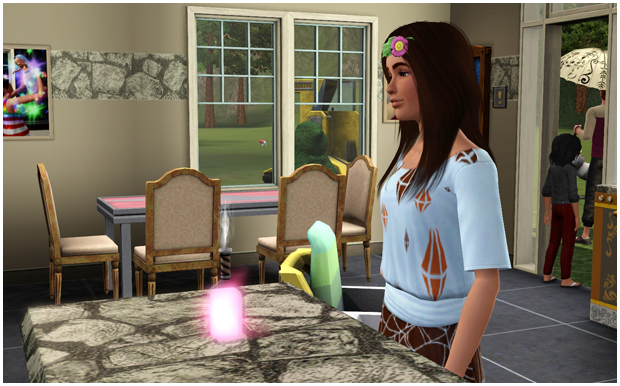 Sam: Hey guys look. Someone left a potion on the counter! How silly.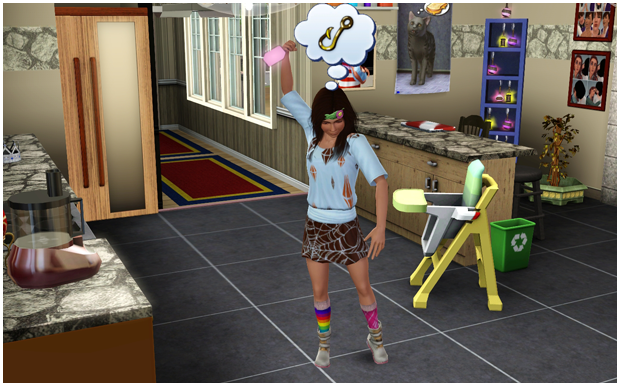 Sam: This better make me a better fisherwoman!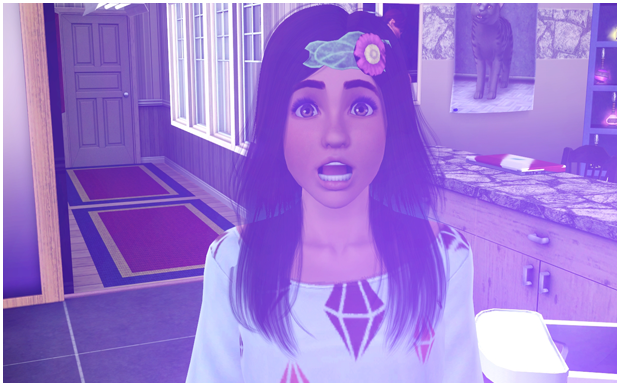 Sam: Maybe I'll be a mermaid!!
Don't be silly I don't have that EP
edit: spoiler! I do now. not a spoiler..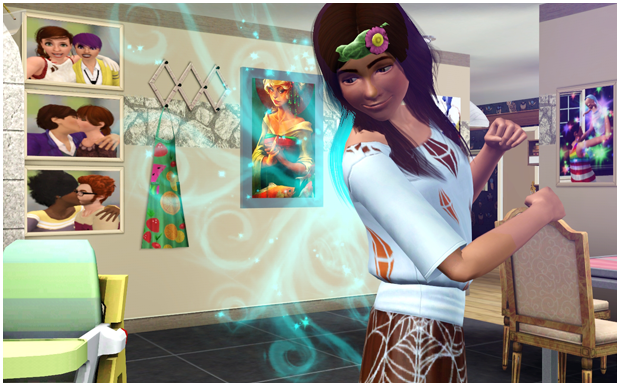 Sam: Coooool.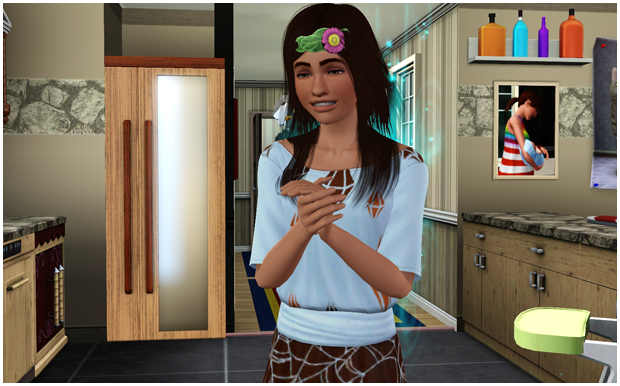 Sam: I'm a fairy now!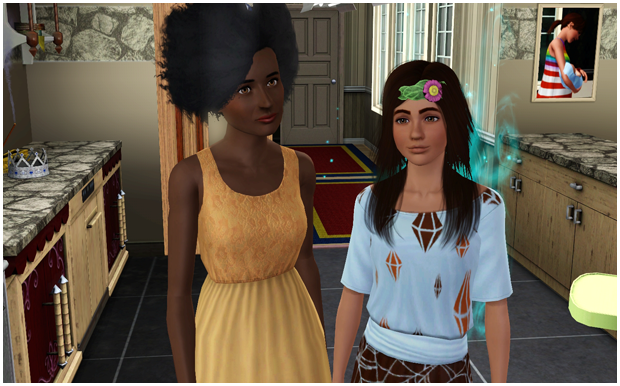 Paris: My daughter is a fairy? No flying in the house, all right sweetie?
Sam: Yes mum.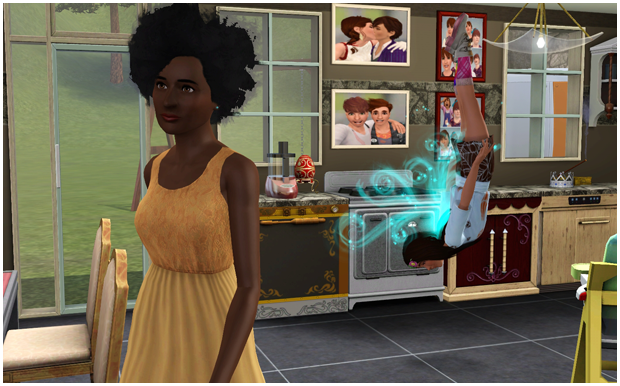 Sam: Hehehehe.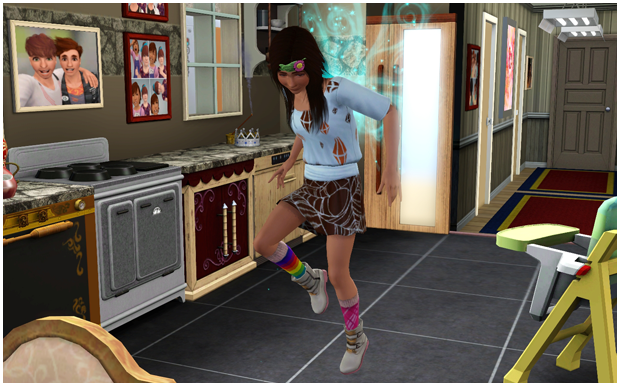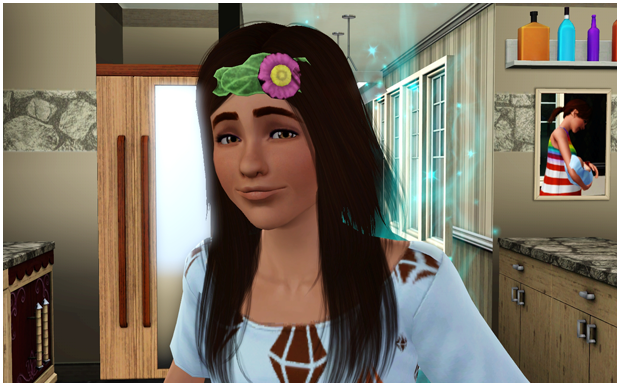 Sam: Can't stop; won't stop!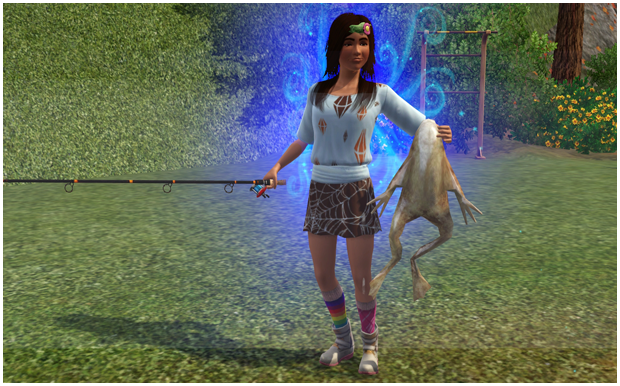 Sam: Looks like my fishing as not suffered.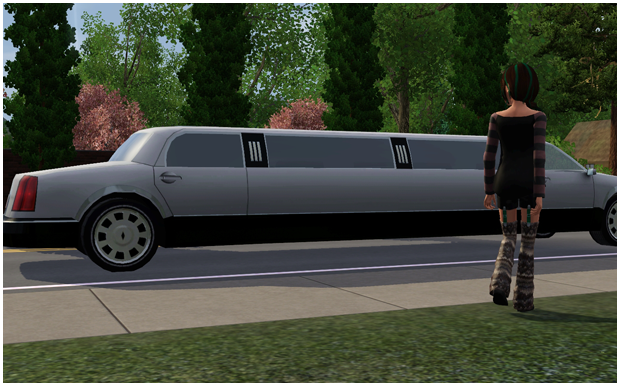 But guys, prom is here! Sam only had an afternoon to prepare so she couldn't get a date.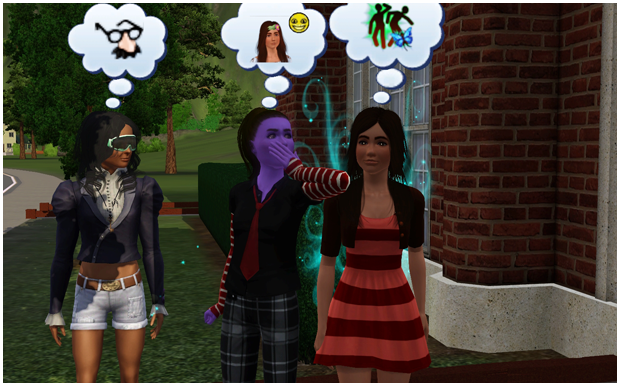 Wendy: Holy shit. She's a fucking fairy.
Ami: Hilarious.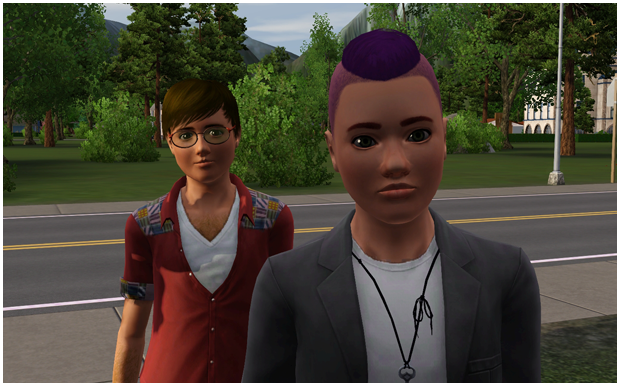 Look it's Jody(Garen's kid) and there's Randall Hurd on the background.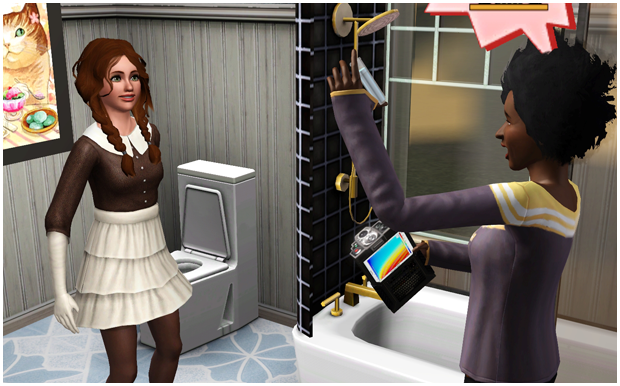 At home Paris had no problems getting Taylor's DNA sample.
Taylor: Witchcraft and science working together!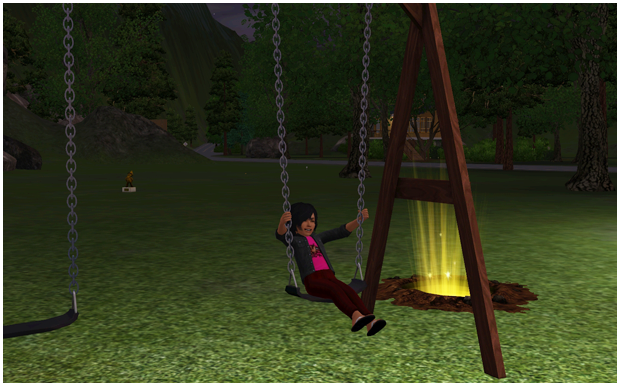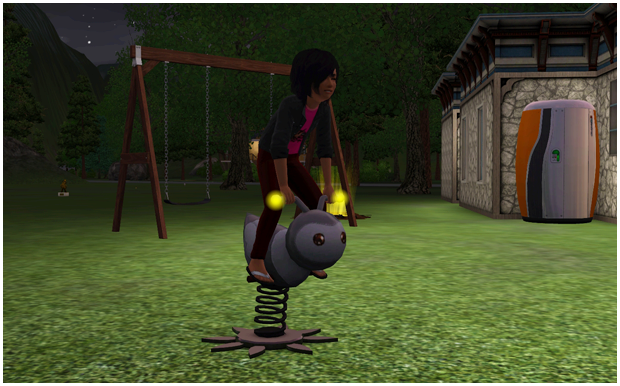 Meanwhile Max is being a kid while the older girls are at prom.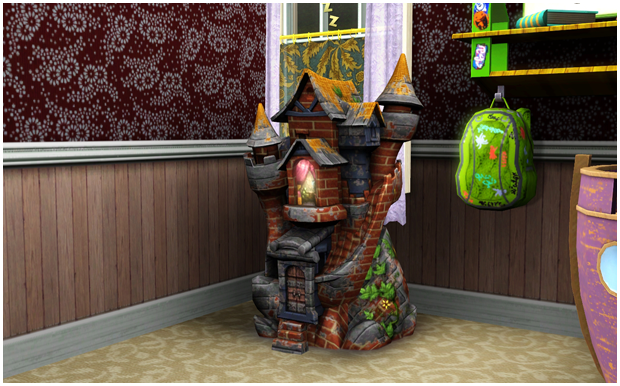 Sam got a cute fairy mansion in her room.
I think Ann won prom queen. I forget.
What did happen was Kris asking Ann to go steady! I hope he broke up with Morgan first..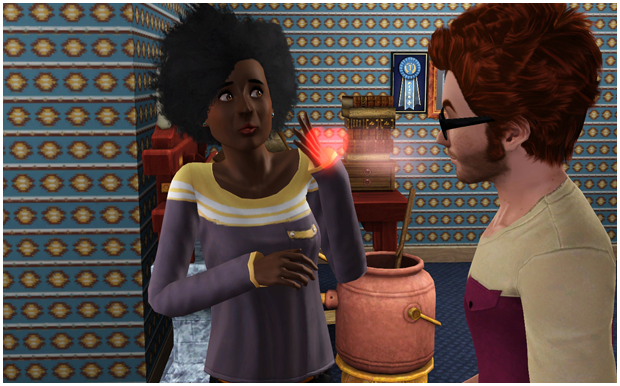 Jason: Hey baby. I feel like we should.. kiss.
Paris: oh mama.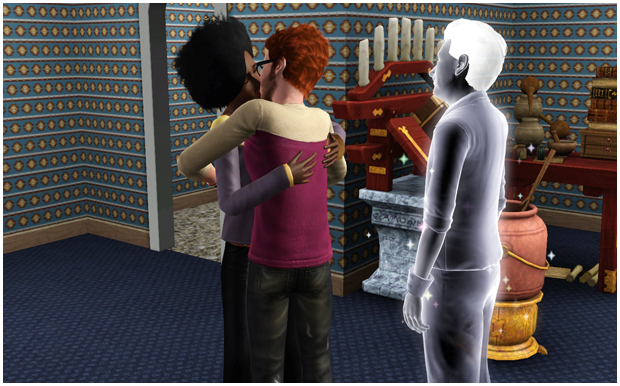 Lord which ghost is this I'm forgetting everyone. It doesn't look like Ernest, so.. idk anyway he's admiring the couple's technique.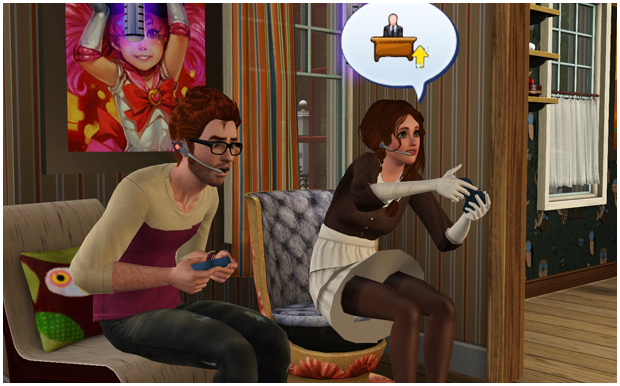 Taylor: Come on I've almost got a lvl up, cover me!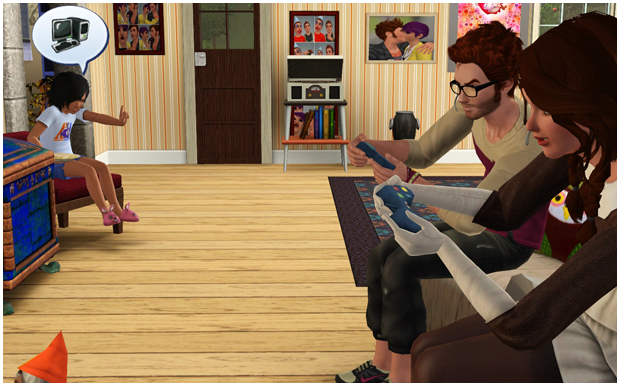 Max: PC gaming is superior!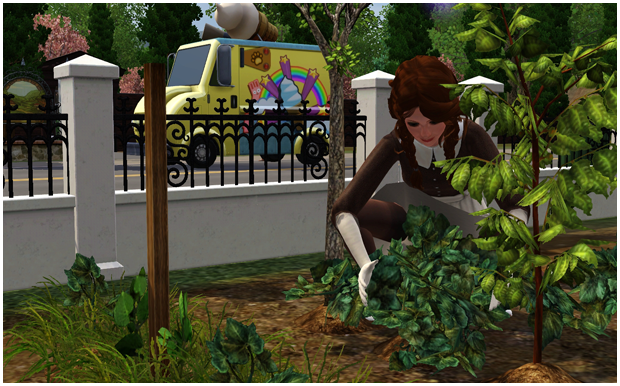 We've still always got a garden going. wait ICE CREAM VAN!
Max: Ice cream?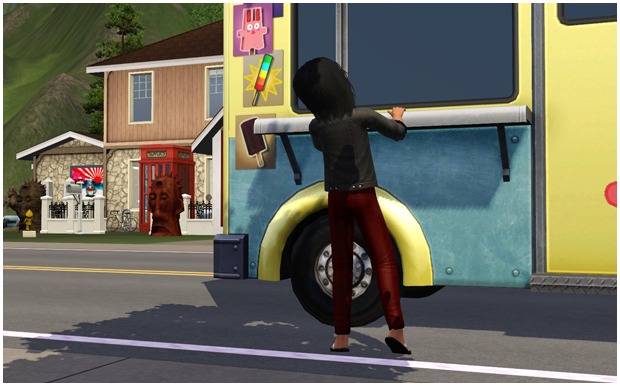 Max: ICE Creaaam?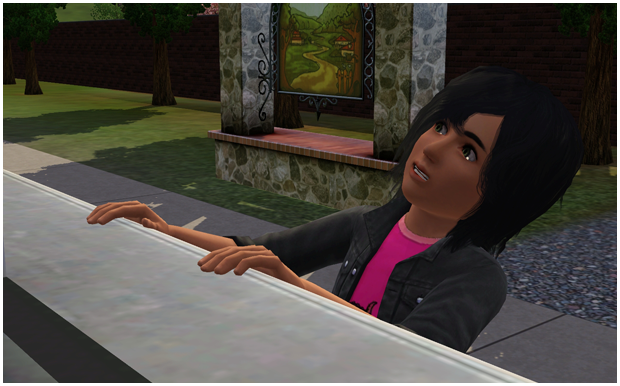 Max: ICCCCEE CREAM!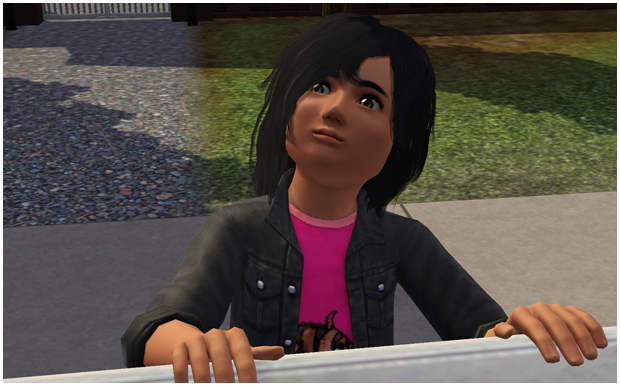 Max: Hi I want a strawberry cone, please.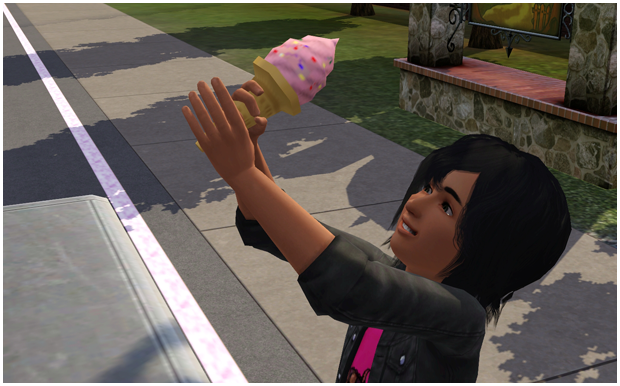 Max: Come to me baby.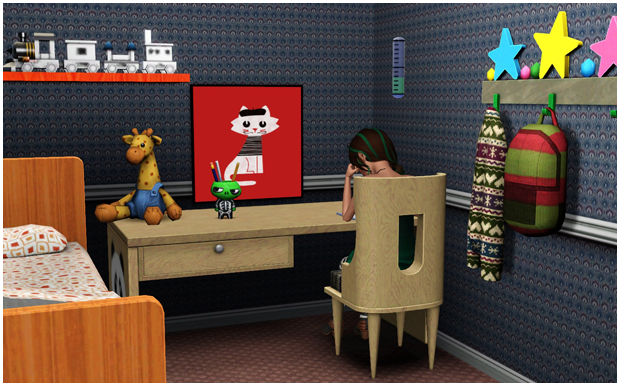 Ann: I have to finish homework before I can eat dessert.
It's so cute they always do their homework here on Ann's desk.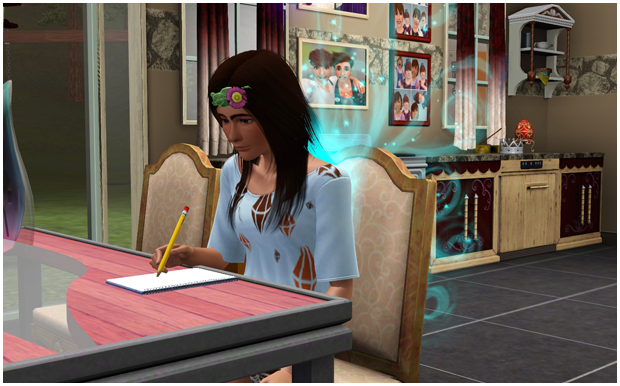 Unless it's already in use.
The following is presented without comments.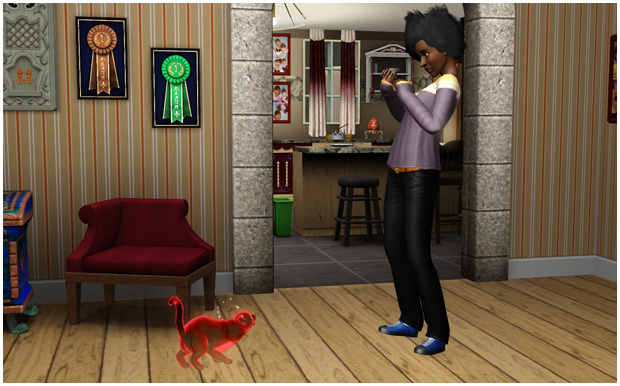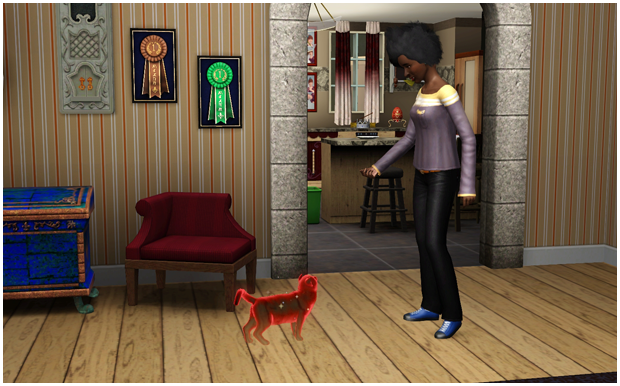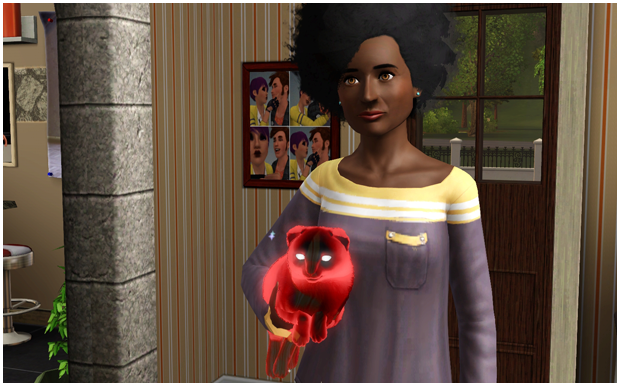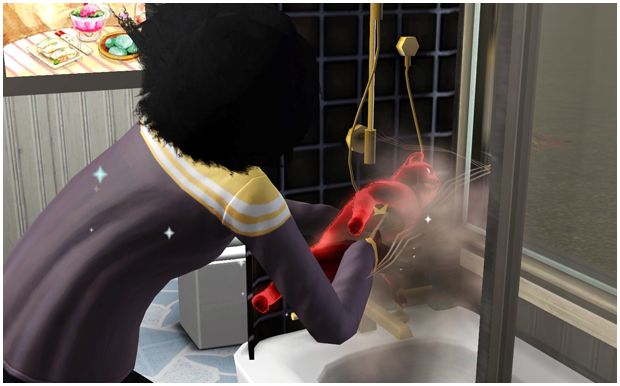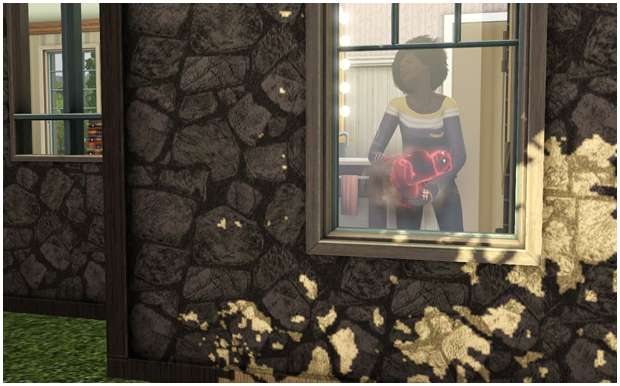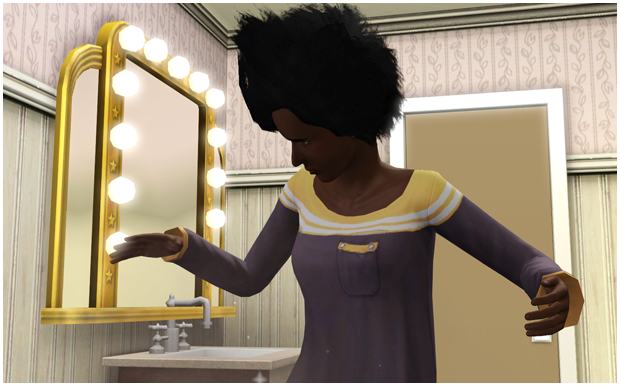 Paris: Fine, stay dirty.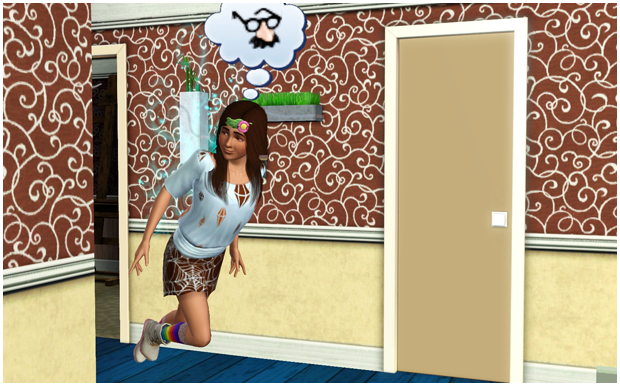 I really like that I made Sam a fairy, she seems like the mischievous one.
Not that this one isn't mischievous.
Look I've put all her paintings up and this tiny room is just very cosy in a way.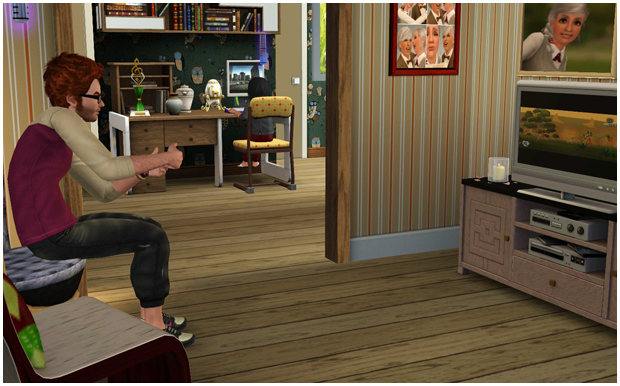 Jason: Max, if you're going to play video games come play with daddy!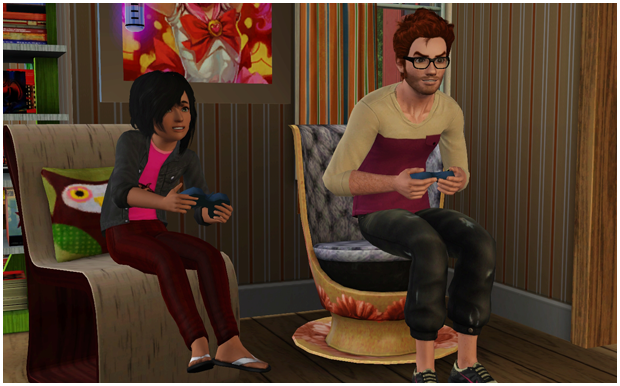 Max: I still think PC gaming is superior.. but playing with my dad isn't that bad.
Ugh this family is so cute. Just seeing pictures is kind of making me wanna go back in game, but it's hard to come up with captions. I'm sure I had a better one thought up here, but I don't remember!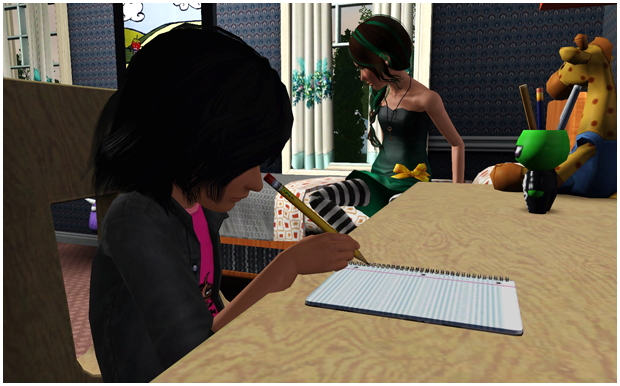 Ann: You're going to do homework in my room?
Max: I don't have a desk in mine, Annie.
Ann: Okay but be quiet I'm going to sleep.
Max: I'm doing homework, not having a  fairy dance party.
And this was Max's last homework assignment..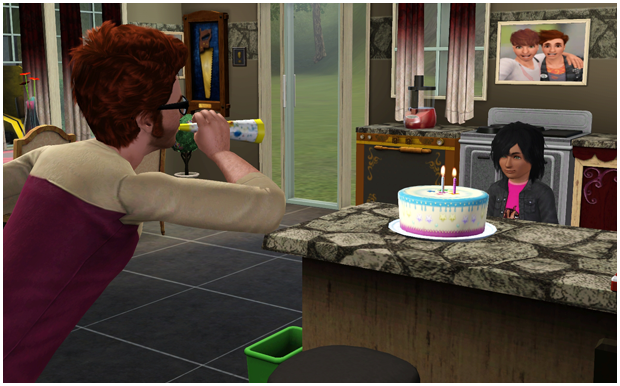 BEFORE HER BIRTHDAY WHOOOOO.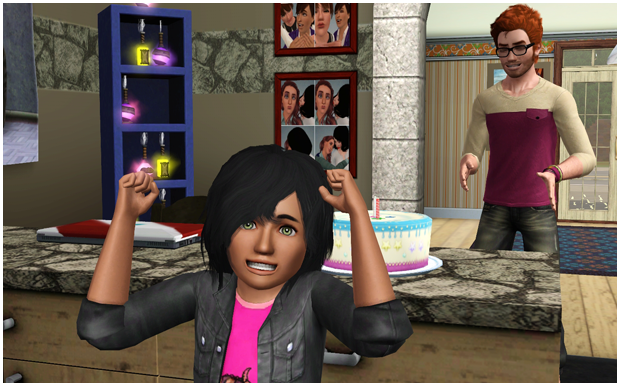 Oh crap I have to find my notes now to see what new trait she gained!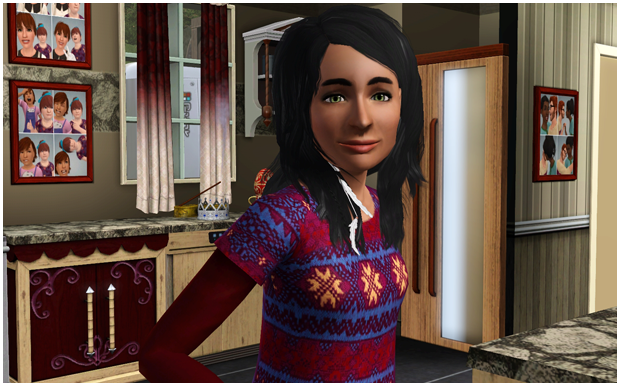 Max became a Vegetarian! She's also Ambitious and a Computer Whiz AND has a good sense of humour. In case you forgot. Who am I kidding, of course you did! I mean I did and this is from my game!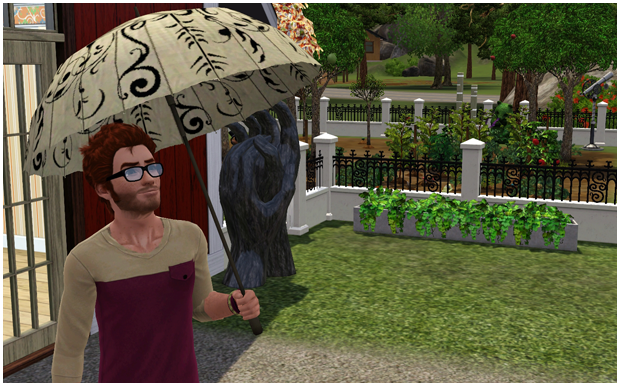 What a beautiful day to go see relatives we barely remember!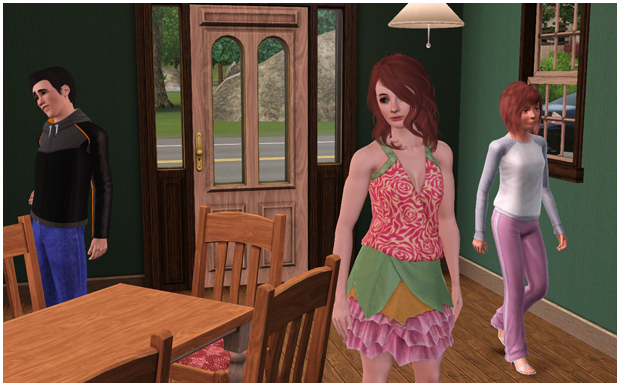 It's Nyah, Jason's adopted sister!
She and her husband.. Darrin? I think I remember it correctly had a daughter(Taylor went with Nyah to deliver it I remember that too!). This is her. Her name is Sharla? I might be reading my handwriting wrong. I AM SO BAD AT THIS.
Nyah and Darrin are now expecting again!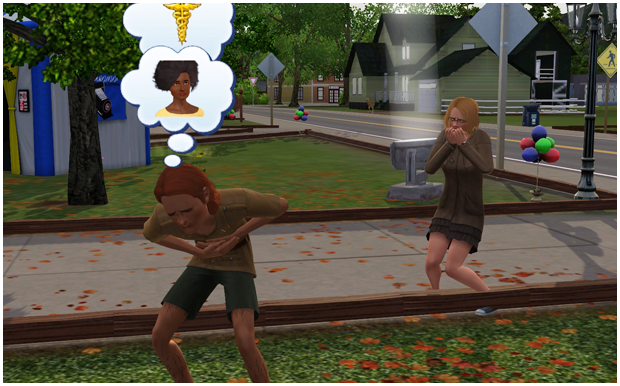 SUDDENLY!
Gilbert: HELP I need a doctor!
Paris: Dun da daaaah! Me to the rescue.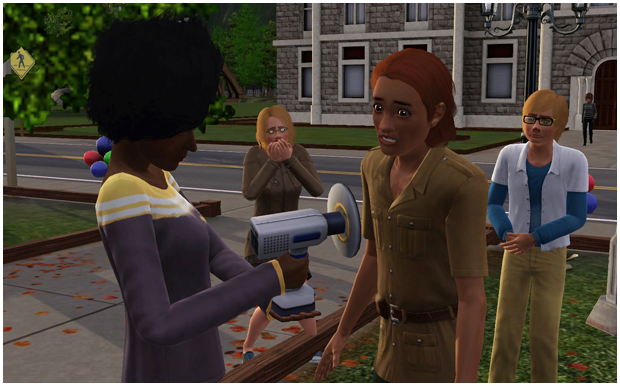 Paris: I'm gonna point this at your face. You might feel the sudden urge to run for your life. Don't.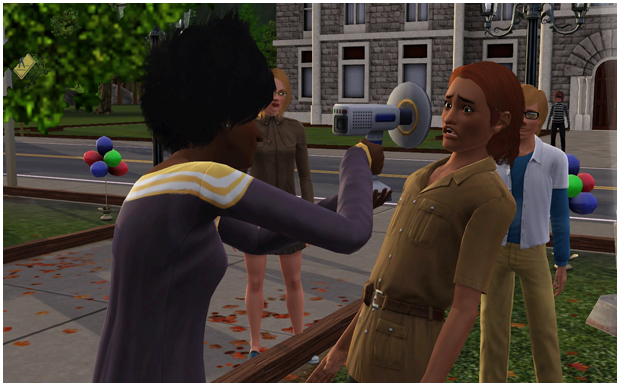 Gilbert: Oh god! Oh god run or die!!
Paris: Doooon't doo it!!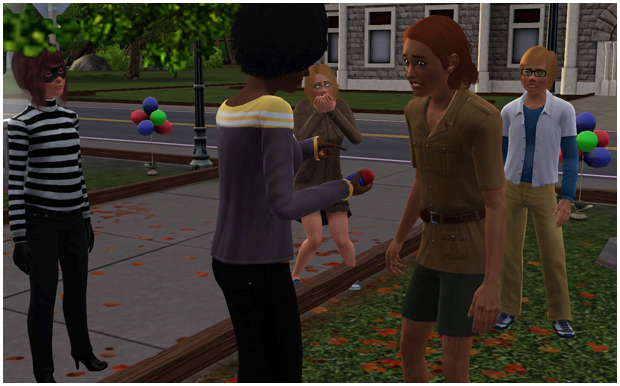 Paris: All right. Looks like you have a case of gout.
Gilbert: How is that possible!?
Paris: Don't question me. I'm a doctor! Now take this capsule.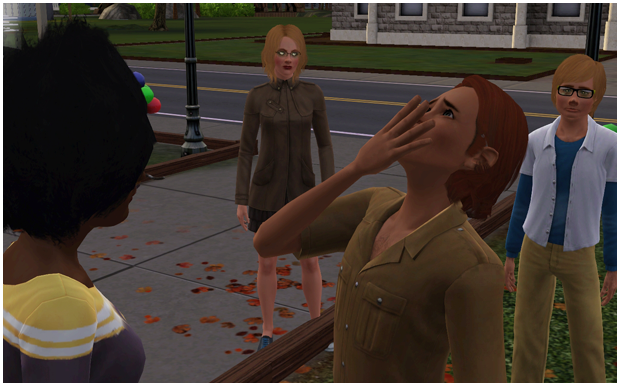 Gilbert: Ooookay.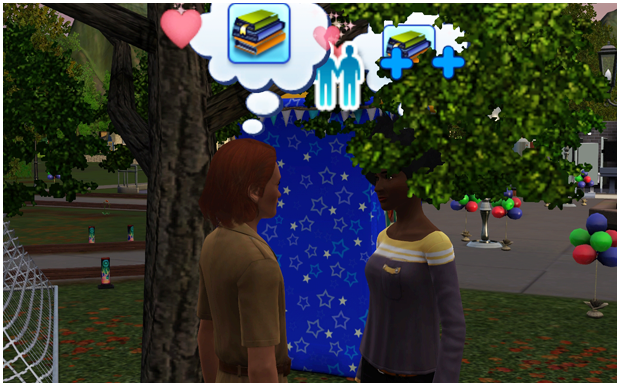 Gilbert was fixed up and then they found out both Paris and Gil are bookworms.
Wait Paris is a bookworm? It must be a trait she got from being a high-level nerd, because it's not in my notes.
Those who don't have the social groups, yeah if you get a high enough level (8 I think out of 10) your sim gets an extra trait. Now of course if they have a high level in multiple social groups it does not stack. So you can't have 3 extra traits if you're level 9 in all 3. You just get the one.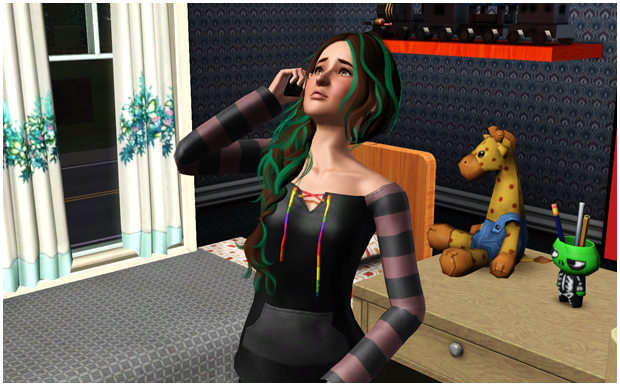 Ann: Heyy Kris,. what's up?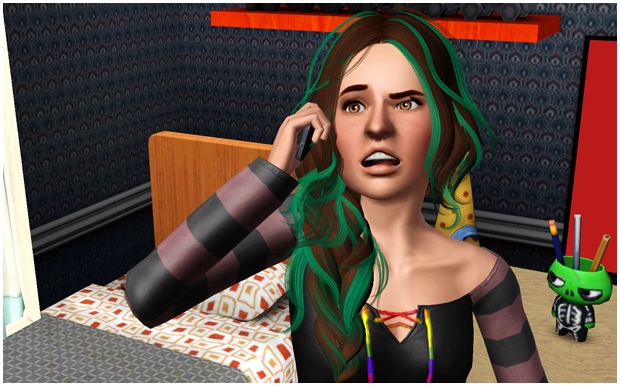 Ann: Have you broken up with your other girlfriend yet?
He's such a tool. Also he seemed kinda glitched cause he went to prom and got a girlfriend thanks to the game script even though he already had one.. so at times it said he was dating Ann(in the relationship panel) and then Morgan.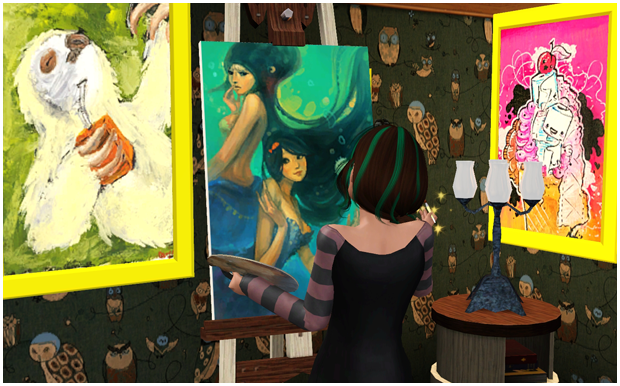 MERMAIDS.. maybe I will have one soon.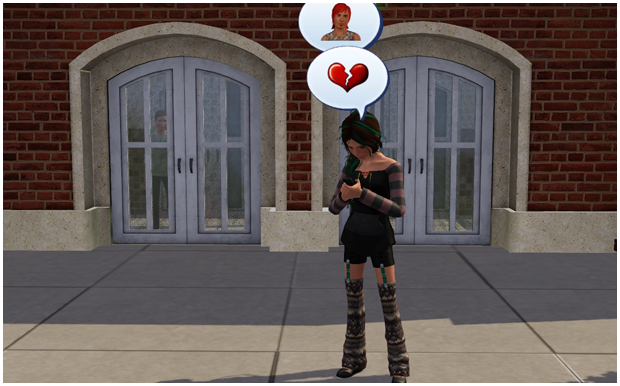 After school the next day.. Ann did the right thing and dumped Kris via text message.
Ann: He doesn't deserve a face-to-face.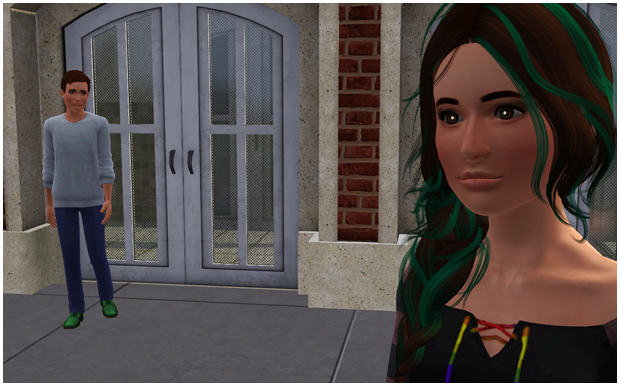 Oh! Could there be love blossoming soon between these strangers?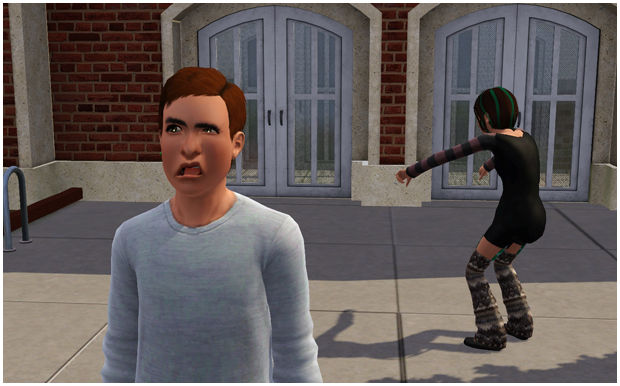 Ann: No I don't think so.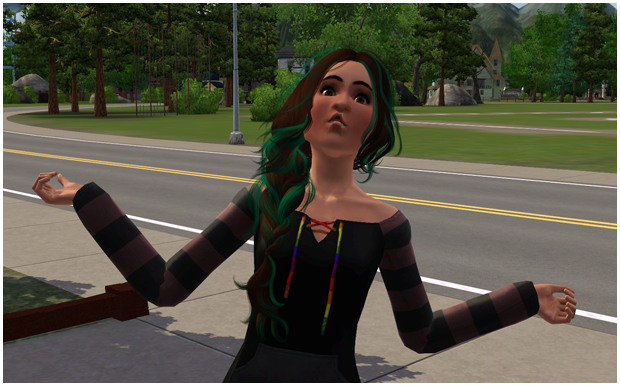 Ann: Boys can suck it; cause I'm not gonna! My one true love is painting!
And this is where we end our chapter. I believe I literally have no other pictures from this legacy so it's time to go and play the game! Who's with me?
See ya!
ps. I've had some trouble with my photobucket account. That is I can't access it. but support told me they're working on a fix cause it's a known issue, so hopefully by the time I have pictures ready PB will let me in again.